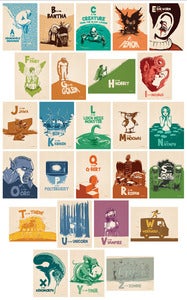 $

11.00
26 full color postcards from my AlphaBeasts series of illustrations featuring alphabetical creatures from mythology, sci-fi films, TV shows and even video games. You can see all the illustrations here: http://www.richbarrett.com/alphabeasts/
The postcard images are printed on a cream color background like the one shown here. Each set is wrapped with a red paper "AlphaBeasts" band.
Postcards are all standard postcard size with plenty of room to write on the back.
I also do a little sketch on the small, round sticker that binds the postcard set together. Feel free to put in a request on the PayPal page if you want me to draw you a particular monster.